YOUR BEST AND GREATEST SELF
You know that becoming your Greatest Self requires clarity and commitment.
It requires that you live in your Feeling Heart, and master your mind, the way you think and act with confidence.
Your Feeling Heart is a portal to your Greatest Self, an enduring part of you.
When you live in your Greatest Self, you give your best self to the world, improving the world. It's that simple!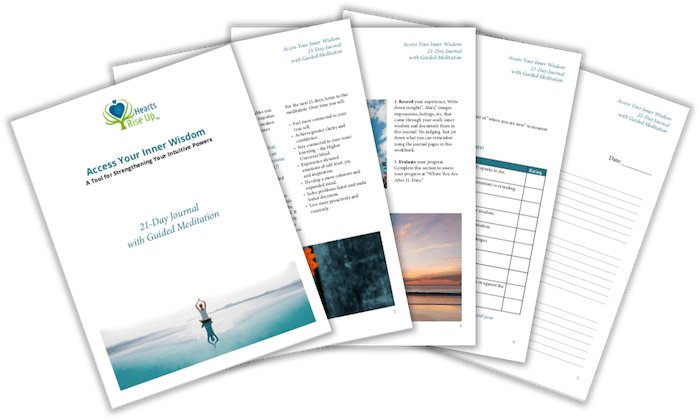 Access Your Inner Wisdom
A guided meditation to tap into your inner wisdom and listen to your heart.
Learn to trust your True Self.
Includes a Journal with instructions and space to record progress over 21 days.
FREE DOWNLOAD
Access Your Inner Wisdom
Mp3 Guided Meditation with 21-Day Journal

Rising up to life's challenges and being your best every day is hard work especially in today's wild and crazy world.
At Hearts Rise Up we help people like you make daily progress on being your best self. It can be tough going it alone. That's why we're here to help you rise up and live in your Higher Self every day.
Being your best self takes time just like developing a personal fitness routine that becomes a daily habit. It takes the right routine to get in shape and a life-long commitment to stay in shape.
Over time, you'll experience amazing changes and you won't want to go back to your old self. 
That's a promise!
As personal development practitioners, mentors, and coaches with a practical, heart-centered focus, we want to help you make being your Best Self a Daily Habit. Once it becomes an automatic habit, it's a whole 'New Way of Being'.